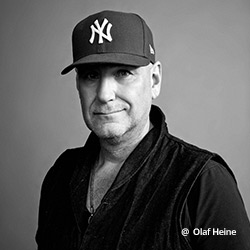 KAI WINGENFELDER
Photo © Olaf Heine
"We all give too little thought to our hearing. It is only when we lose our ability to hear, which we accept as so normal, that we wake up.
I am a musician and without my ears I would be nothing. 2 years ago I got tinnitus, which will never disappear completely, but thank God does not hinder me professionally. Others were less fortunate. Many of my colleagues share my fate.
With a little discipline and even more education, we can help young people in particular avoid damaging their hearing before it happens. That's what the German Tinnitus and Hearing Foundation Charité has written on its banner, and I'm happy to help hold that flag high."
Kai Wingenfelder
Musician, Singer & Songwriter
www.wingenfelderwingenfelder.de
___________
Kai Wingenfelder told us more about why he supports the foundation as an ambassador in summer 2014. Click here for his interview.