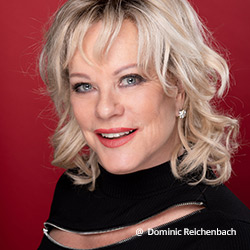 LISA FITZ
Photo © Dominic Reichenbach
"Tinnitus takes a lot of energy. Many people close to me, fellow musicians and technicians are affected. Her life has changed a lot as a result. I know some who are doing quite badly. I admire the fact that they don't let it get them down. And to be honest: I've also had whistles and hisses before, which gave me quite a fright. I've been paying attention ever since.
It is so important to counter recklessness with prevention, to gather information, to disseminate it, not to trivialize it and talk it away. After all, many people don't see the problem until it's right in front of their nose or in their ear. And often it is then too late. How much smarter and easier it would be to get smart in advance. We usually google every nonsense, here googling makes sense! That is why I also support the German Foundation Tinnitus and Hearing Charité.
We need research and a lot more education to prevent tinnitus from happening in the first place."
Lisa Fitz
Cabaret artist & musician
www.lisa-fitz.de
___________
Lisa Fitz told us more about why she supports the foundation as an ambassador in June 2014. Click here for her audio message.